Cast
Comedy
Continuity
Plot

Director: Akiva Schaffer
Writers: Jared Stern, Seth Rogen, Evan Goldberg
Stars: Ben Stiller, Vince Vaughn, Jonah Hill, Richard Ayoade
When one brings the idea of Vince Vaughn, Jonah Hill, and Ben Stiller all being featured in a film together, more often than not instantaneous thoughts of humor will occur.  For myself this was exactly the case…that is until I actually saw the film featuring this trio. This comedic disappointment I am speaking of is called The Watch. There were some laughs and good humor yet it lacked a sense of personality. There was nothing special that specifically made the film memorable to stand out amongst the rest of the comedy greats. The Watch had potential - veering down a somewhat unique storyline and a solid cast; yet the final results were fairly unsatisfactory.
The Plot:
The Watch is about a group of four suburban dads (Ben Stiller, Vince Vaughn, Jonah Hill, Richard Ayoade) who form a neighborhood watch as a way to break the routine and mundane of their every day family lives. As they adventure into the world of neighborhood protectors they accidentally discover that their town has become overrun with aliens posing as ordinary suburban families. Soon they must embark on a conquest that will have them defending the Earth from an alien invasion.
The Good:
Richard Ayoada
Known best for his trademark fuzzy and lawlessly curly hair, Richard Ayoada is also known for acting in the television series The IT Crowd (2006-2010) and for directing Submarine (2010). Although he is without a doubt the least well-known cast member of the four starring in The Watch he was one of the better main characters. His demeanor was subtle throughout the film, but it showcased a nerd juxtaposed with a bit of a bad ass. He was not overwhelming and did not seem to overact. He was humorous during the right moments and his personality of the geek seemed to fit the alter ego of being able to kick ass. Richard definitely was a good surprise in this film.
The Bad:
What just happened?
The entire movie was a massive collaboration of genres ultimately leaving the viewers in a mess of how to react. It is as though the film didn't even know what genre to place itself under. The showcase is of course comedy, yet the film kept skipping to drama, horror, action/adventure, and romance just as often. Nothing was really consistent, even the comedy seemed to be all over the place switching from slapstick to raunchy and from team driven to dialogue. I found myself more in a helter-skelter trying to keep up rather than laughter.
I want more!
I wanted so much more from the main four characters. Honestly they were not bad, but in the realms of Hollywood Vince Vaughn and Jonah Hill should not simply be okay. They are usually hilarious, yet in The Watch they fell fairly short of their expectations. All of them seemed to be very inconsistent; one minute they are on and hilarious and the next minute they are boring me to death. Jonah Hill's character would go from making me laugh to completely making me not believe in his role. He just didn't seem to fit this character, which is surprising due to him being an incredible actor and usually having no problem blending in. Vince Vaughn was the usual loud outspoken giant man of the group and simply did it just okay. There was nothing absolutely special that he brought to the film. Ben Stiller was terrible as well. Where has he gone? I used to enjoy watching him premiere in films, however not in this one. His character was boring and mundane, especially in comparison to the other roles he has played such as White Goodman in Dodgeball (2004) and Derek Zoolander in Zoolander (2001). Granted those are very different characters, but Ben Stiller has played a similar cautiously uptight character in Meet the Parents (2000) and he did a much better job then. Overall I suppose I was a little let down and just wanted more out of the these main characters who have already made big names for themselves.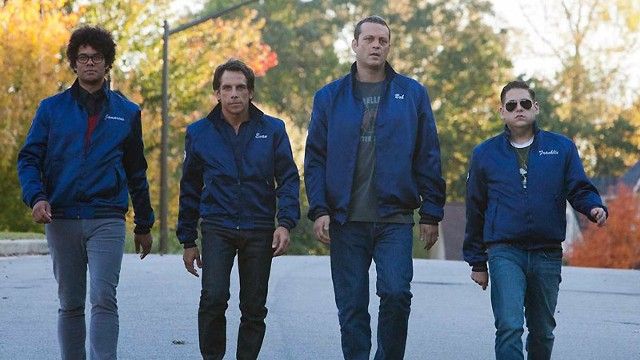 Rating: 2/5
Overall The Watch was a neighborhood falling short of expectations. There was absolutely nothing that made this film spectacular, especially when compared with the other comedic work of the cast. It was very inconsistent, often relieving my attention from the big screen rather than arresting it. When I first heard of the cast that was to be featured in this film I was excited and set my expectations accordingly. With names such as Jonah Hill, Vince Vaughn, and Ben Stiller, The Watch should be anything but disappointing. I wanted so much more from this all-star cast, but it simply did not deliver. If you are looking for a film to pass time then sure, go ahead and rent The Watch when it comes to DVD/BluRay. If you are looking for an award winner or even a comedic masterpiece then steer clear of this film because like myself, you will be let down.