Cast
Stop Motion Animation
Storyline
Creativity
Director(s):
Chris Butler, Same Fell
Producer(s)
: Travis Knight, Arianne Sutner
Writer:
Chris Butler
Actors:
Kodi Smit-McPhee, Tucker Albrizzi, Anna Kendrick, Christopher Mintz-Plasse, Casey Affleck, Elaine Stritch, John Goodman,
Costume Designer:
Deborah Cook
Cinematographer:
Tristan Oliver
Editor:
Christopher Murrie
Composer:
Jon Brion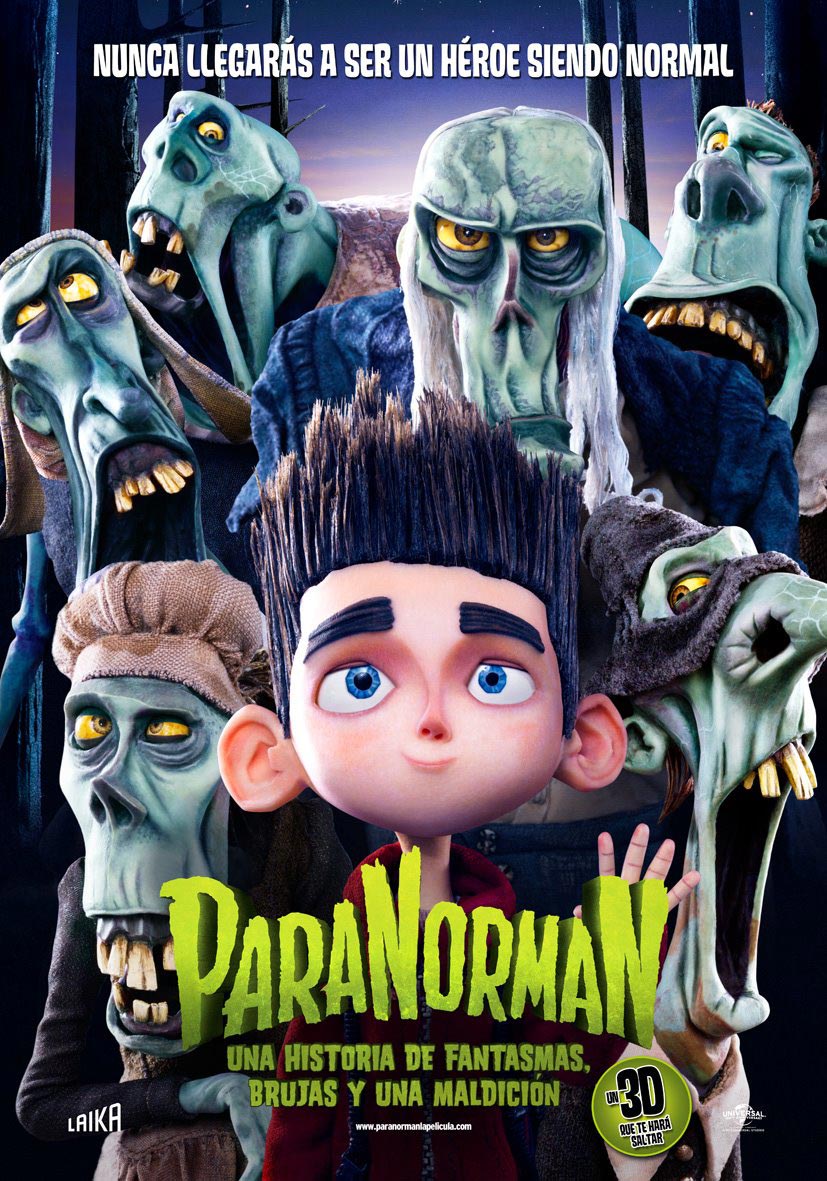 As the industry of animated films has become a lavishing feature of three dimensional computer graphics, it is often refreshing to find films that carry an older foundation from the origins of animation.
Stop-motion animation was on the frontier before the technological advances exponentially began to rise in the industry. Using actual objects with movable joints or clay, the figures can easily be manipulated for each frame of the film resulting in the fluid movements comparatively seen with Computer Generated Images. This type of animation has resurfaced in recent years with films such as Corpse Bride (2005), Fantastic Mr. Fox (2009), Coraline (2009), and the upcoming Frankenweenie (2012). Tim Burton is often a friendly face associated with stop-motion animation, yet many more are making their strides with the technique.
A recent big screen feature that has arrested its viewers with this type of animation is ParaNorman. In an atmosphere that leaks of nostalgia, the film is a wonderful treat with all of its features beautifully juxtaposed.
Storyline:
Released on Friday, August 17th, ParaNorman tells the story of a young misunderstood boy named Norman (Kodi-Smit-McPhee). Horror films are his treat while zombies are clearly his passion. Norman's room is decorated with a mosaic of zombies on the wall, soft fuzzy zombie mouths that cushion his feet as he walks, a zombie alarm clock to appropriately help him rise from the dead every morning, and a zombie toothbrush to top off his unusual obsession.
Along with being cleverly curious about zombies, Norman can also speak and see the dead. In a town that has a history of witches and dark magic, the people don't seem to take well to an individual who can see dead spirits. As the times of adolescence are hard enough, Norman is alone in his town with a gift that relieves him of a normal childhood. Little does everyone around know this boy's unusual gift will come in handy.
One day the young boy comes to light of a centuries-old curse left on his town by a young witch. As the only one who can rescue the town of the witch's terrible curse, Norman begins the story of a life trying to save the very people who out casted him. Through the trials and tribulations of the film's adventure Norman tries to find himself along with a place of belonging.
The Good:
The Stop-Motion Animation
One of my personal favorite movies is Tim Burton's The Nightmare Before Christmas (1993). I am always a sucker for claymation and stop-motion animation with beautifully grim and grotesque features as their foundations. From the same company that brought together Coraline, Laika Entertainment, comes another stop-motion feature by the name of ParaNorman.
The animation is magnificently brilliant. Norman's character was so greatly animated with lively flowing expressions that it was easy to connect with his character. Of course the movements are never as smooth as computer generated graphics, but they are incredibly close. There is a unique attribute, however, about this animating technique that I find so wonderful. It reveals a special atmosphere that no other technique can replicate and personally makes a stronger connection with the entire film and its viewers. While watching this piece I kept thinking to myself that the animators did a superb job of displaying smooth movements and clever creations. The expressions, clothing choices, and appearance associated with the characters through the animations were close to perfection.
Along with the characters leaving the audience in awe, the scenery and costumes were great. The entire film is a picturesque recreation of the world we live in, yet still exaggerated in subtle details. It was definitely one of the best jobs of stop-motion animation I have seen in a film to date. If this is something that interests you then absolutely check out ParaNorman Stop Motion Animation and Wired Magazine's article, which go into a lot more depth of how the animators made these characters come to life in extraordinary ways. 
The Cast
Norman and Neil
The youthful cast for ParaNorman showcased their talents in a great way. Kodi Smit-McPhee, known for films such as Romulus, My Father (2007) and Let Me In (2010), did a brilliant job with his portrayal of Norman Babcock. The young actor had a great range of emotions beautifully showing the hardships of a misunderstood adolescent. He arrested my attention from the beginning of the film matching the situations brought to life through the animations perfectly.
Along with Norman came his new-found best friend Neil. Played by the equally young actor, Tucker Albrizzi. As soon as Neil's chubby cheeks and goofy personality came on screen, I instantly enjoyed his presence. He was a huge asset to the film's humor and ultimate demeanor giving a great connection with the viewers and the film. He handled the role of Neil incredibly well and honestly was one of the best characters. Both of these young actors, Kodi and Tucker, were fantastic throughout the entire presentation. It will be interesting to see how their careers produce over the next decade.
The Three Unlikely Amigos
A few other cast members aiding in the enjoyment of this film. Norman's sister, Courtney (Anna Kendrick), Neil's brother, Mitch (Casey Affleck), and the school bully, Alvin (Christopher Mintz-Plasse) were great additions. The three were often involved in the story line as they assembled the members of Norman's brief team as the town they knew turned into complete anarchy. Through witty and comedic dialogue all three added a unique presence and personality to the cast of characters. On top of the characters great appearance the actors behind the faces were wonderful; they were exciting, humorous, and most of all did not take anything away from the film. The three roles were perfect for the film and I absolutely enjoyed their company. These memorable characters caught me by surprise.
The Story
In the realms of ParaNorman I found the storyline to be a refreshingly fun and intelligent way to capture the viewers' attention. It did not get carried away with over exaggeration and was far from boring. Chris Butler and Sam Fell directed this feature with a clever vision of where they wanted to take it and in great sensation it seems as though they succeeded.
Along with directing, Chris Butler also penned the script for ParaNorman and in a twist of events this is his first big screen-directing role. He has had plenty of experience in the animation industry as the storyboard supervisor for Coraline, the storyboard artist for Corpse Bride and Tarzan II (2005), along with being a character designer for The Tigger Movie (2000).
The second part to the directing team for ParaNorman, Sam Fell, has had a little more experience in the world of animation. He directed The Tale of Despereaux (2008) and Flushed Away (2006) along with being a writer and animator earlier in his career. The duo absolutely made a statement with the ParaNorman and hopefully will continue to create such masterpieces. The choice to use stop-motion animation was pure genius and how they eventually made everything come to life was even more brilliant.
Overall Score: 4.5/5
I really enjoyed ParaNorman. From the stop-motion animation to the cast and storyline, all of the features were absolutely amazing. Yes, it is targeted towards a younger audience, as most animated films are; yet the film can relate to almost anyone no matter what age. Throughout the feature there are plenty of clever dialogue choices that adults will catch and laugh about, while the children will never even realize what happened nor will they care. The triumphant imagery will be enough to keep anyone's attention.
If you are looking for an enjoyable film to get away from everyday life then take a visit to the nearest theatre and check out ParaNorman. The film will not disappoint as it is without a doubt one of the best-animated films of this year.
'ParaNorman' Movie Trailer: